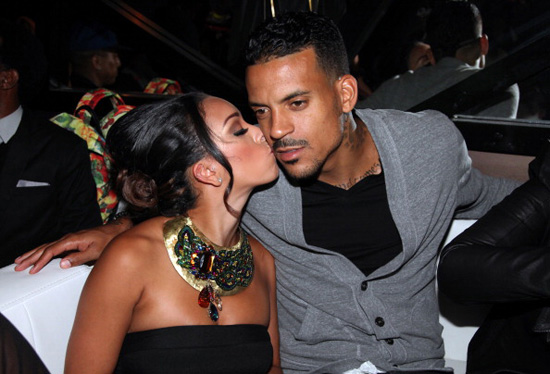 Gloria on Her Realtionship and How Basketball Wives has effected it
Our relationship was under a magifiying glass last year.  and you know all these people were involved  we have so many opionions. This year Matt and I refused to let people in it, so you wont see him on the new season. Also Matt and I took a hiatus. We had to work on ourselves individually, we had to work on ourselves individually without us being on top of eachother or being in a routine. So coming back to our realtionshi was defiintely stronger because we are stronger indiividuals. [...] I appreciate what BBWLA has given me in making sure that I've grown as a person.
Matt on Their Relationship and How Basketball Wives has effected it
I think anytime you give the world access to your releationship you set yourself up for trouble.  We faced our roller coasters with the camera and without the roller coaster  but we stuck it out we are going to make it work.
Keep reading for more from this interview and to watch the entire thing. 
Matt's thoughts on what it takes to be wifed by a star or athlete
Be careful what you get yourself  into. Know what you are getting yourself into.  (Intelligence and Beauty is something he mentioned athletes look for) What sets you apart, what makes you different from everyone else, BE ORIGINAL.
Gloria's thoughts on what it takes to be wifed by an athlete
As a wife which im not, I  would definitely say that youhave to hold your own.  you definietly have to be supportive and be exptremely strong cause this world that we live in is such a different world its so crazy.  You have to be comfortable with who you are,  You have to be an idividual and keep your individuality  and your independce as a prioty. Its easy to get lost behind someone elses shadow and then you forget about it and you forget about yourself. First of all this is not a meat market.  There is not a show or club you go to and ball players just pick you out.  If it happens just be supportive, be strong and know who you are and make your realtionship a priotirty without everyone oppptin
Gloria on why she is not married yet:
Marriage is necessarily a huge priority for me.  Matt and I are working on our relationship of being parents first and foremost and then friends secondly.  We did so much growth so we have to get to know each other. I know its in the future but its not tomorrow.  So we will see, I think when it happens everyone will be surprised because I don't think we will make a big deal out of it.