What attracted me to the site was that I saw Seiko of Baldwin Hills in an Advertisment for it. Yes I was and still am a FAN of that show.. I LOVE IT actually and Seiko was one of my favorite personalities… She is so beautiful inside and out. Anywho Seiko brought me to the site and then the clothing offered is what kept me there I live the Cropped Tee Seiko is rockin here.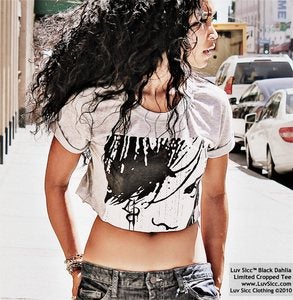 It's called the "Black Dahlia Tee" and its inspiration is the highest profiled crime of the 1940′s in Hollywood "where good looking dames are a dime a dozen". The design came from the designers interest in film noir and the classic tale of desperate pursuance of fame gone wrong.
My second favorite Tee featured on the site is the" Luv & Death" Tee Seen here on your right. It is inspired by the good and bad in one's life. Spooky but cool!
Take a moment and Check out this LA based designer!